New Product Release | MEMSIC releases a new AMR magnetometer, MMC5616WA, a feature rich sensor that addresses todays-challenging application needs
February 18th, 2023 – MEMSIC, the world's leading MEMS technology solution provider, released a new AMR magnetometer MMC5616WA, a new upgrade of MEMSIC's large-scale production of ultra-small size AMR magnetometers, to meet the needs of rich application scenarios including smart phones, wearable devices, drones, and AR/VR.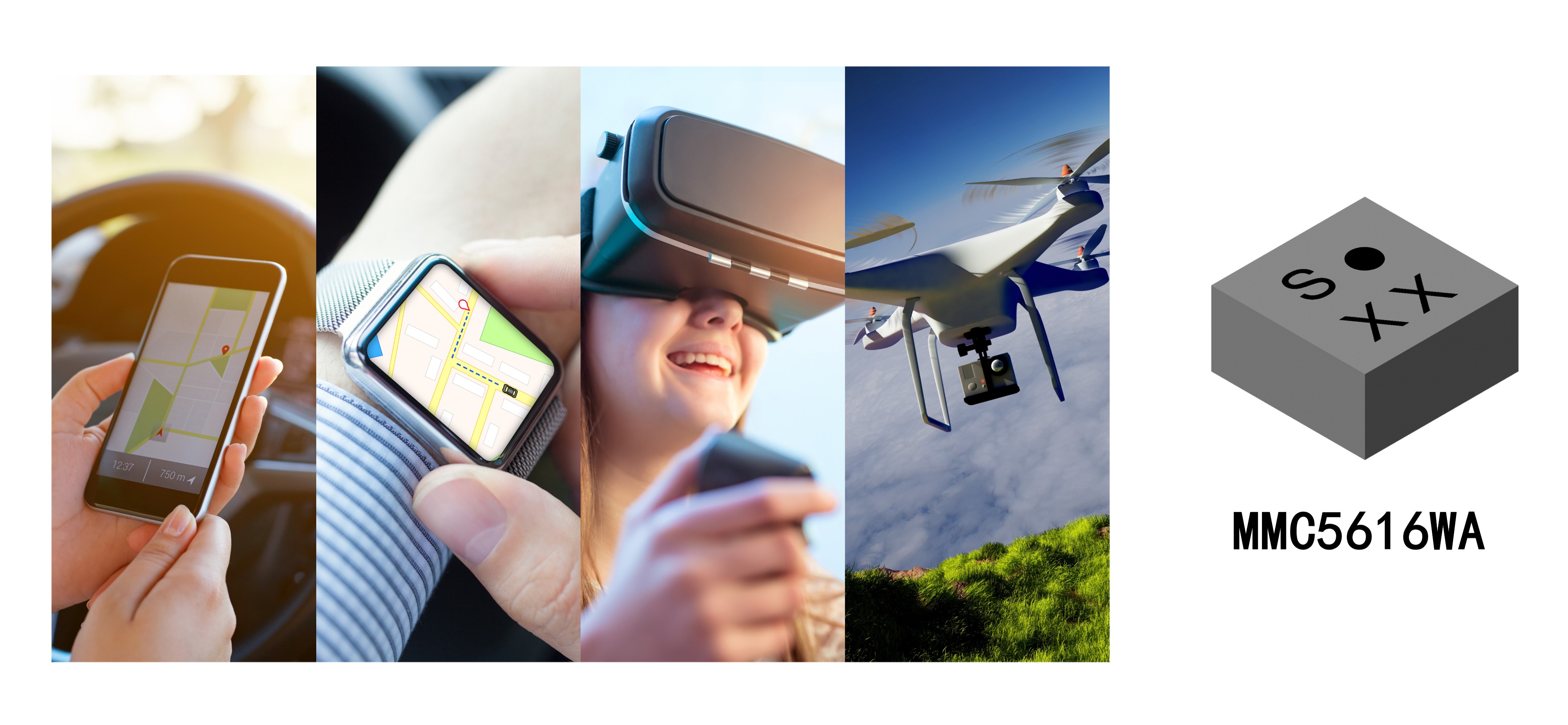 As the navigation function of portable devices such as smart phones is used more often, users are looking for high performance, lower power solutions. To meet these customers performance and power consumption requirements, MMC5616WA is adhering to AMR magnetometer's unique high precision, low noise, low temperature, and other excellent performance features, while adding 16 sets of FIFO data cache – a unique feature for magnetometers. Large FIFO can help reduce the MCU wake up frequency in many application scenarios. System power consumption can be reduced 15-30 times compared to the mainstream products in the market that don't have FIFO.
MMC5616WA supports I3C's high-speed communication interface, with communication rates up to 12.5MHz, and is downward compatible with the I2C interface. It also supports a voltage as low as 1.2V I/O interface, meeting the latest trend of I/O voltage on various mainstream platforms.
MMC5616WA supports a data sampling rate of up to 2,000Hz, which is suitable not only for smart phones, smart bands and watches, but also for drones and AR/VR applications that pursue high sampling rates.
"MEMSIC's AMR magnetometers have a proven record of high performance and quality," said Sam Lu, CEO of MEMSIC. "The advanced product MMC5616WA builds on the strength of the past to further meet customer needs with solid and excellent performance, and is expected to achieve even greater success."
MMC5616WA has now been imported by several industry Tier 1 customers, and is expected to be mass-produced in the middle of this year. In the future, MEMSIC will continue to upgrade and iterate AMR magnetometer products to provide comprehensive product services for the market and meet more customer needs.

About MEMSIC
MEMSIC Semiconductor is a world's leading MEMS technology solution provider. MEMSIC provides customers with one-stop solutions from MEMS sensor chips, software algorithms to application solutions. MEMSIC's stable and mass-produced products include the globally unique thermal accelerometers, capacitive accelerometers, AMR magnetometers, low-power consumption Hall switches and more, which are widely used in automotive, industrial, medical, wearable, smart home, and consumer electronics applications, providing people with a more intelligent, reliable and safe technological experience by sensing the displacement and motion changes of the physical world. Sensing the beautiful life with MEMSIC. For more information, please visit www.memsic.com or follow us on WeChat and LinkedIn.